Why Nepal was Never Colonized?- 4 Principal Reasons
Was Nepal ever colonized? The straightforward answer is NO. Nepal has never been colonized by the British, Japan, or the Mughals. Nepal has always been independent since the first beginning of unification by King Prithvi Narayan Shah.
During the 18th century, most South Asian countries (almost all) were under the British Empire. Whereas Nepal was the only country capable to resist British Forces and stand to fight against the British Empire concluding, Nepal was never colonized and never been successfully invaded by any country around the globe. In fact, Nepal was expanding its kingdom in the East and west. It was growing as a dominant country while on the other hand, East India company was gradually capturing India.
East India Company wanted to expand its business from Nepal to Tibet and East Asia, so they made constant efforts to persuade the Nepalese Government to allow for trade. Nepal in assembled form and good at the economy as compared neighbours concluded the decision not to allow east India company to trade through Nepal.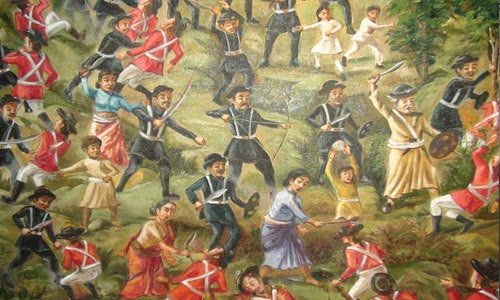 Why Britain Never Succeeded in Capturing Nepal?
Most think Britain spared Nepal, and Britain never wanted to take Nepal. But don't be silly who spares millions of sq. Km of resourced and economic land if it can be captured easily.
So the question is, what was it? Why Nepal was never colonized and what stopped East India Company from expanding its coverage toward Nepal. Well, the question has become a mystery of the century. But We will try to give some of the most popular and preferable reasons that stopped Britain from expanding its hands over Nepal.
Why did the British not Colonize Nepal?
Gurkhas were great warriors, and it was complicated to get victory over them: If you know a bit about history, especially the British colonization part then you should have heard about the bravery and the greatness of Gorkha warriors. Gurkhas are renowned as some of the bravest warriors in the world who sacrificed their lives in saving Nepal in the East and west.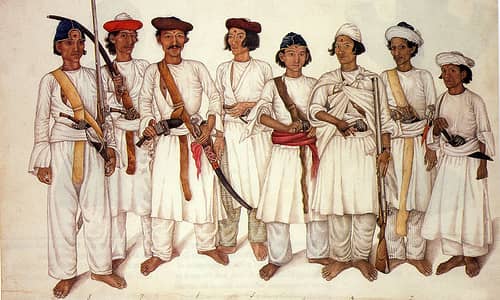 Geographical condition of Nepal: Most of Nepal is Hill covered in the dense forest creating difficulties for the British army in fighting the war. Due to the unhabituated harsh climatic condition, Britain was less likely to win the war front to front, which ultimately helped Nepal becoming the winning side for a short period.
Nepal was economically not much relevant to Britain as compared to some other areas of current India, and they had clearly understood about the difficulties and manpower required to get victory over Nepal, so they come with an idea to make the treaty.
Nepal went in war with Britain when they were trying to maintain their foothold on South Asia not when they were in the pick of their dominance. So, it wasn't any good for them to get involved in agelong battles.
You May Like: 10 Most Surprising and Wondrous Facts About Nepal
Causes of Anglo Nepal War (Gurkha War):
Nepal government was totally aware of what East India company was doing in India, so the Nepalese Government was not in favor of any trade with foreign. The immediate cause of the Anglo Gorkha war was a dispute over Butwal between the East India Company and Nepal. As expected, the East India Company sent a warning letter to the Government of Nepal to leave Butwal. Nepal was a relatively powerful country and any country at the position of power is not likely to give its territory easy-handed. So the GovernmentGovernment of Nepal didn't agree to leave Butwal which ultimately started the Anglo Gurkha war.
The leading Causes of the Anglo Gurkha War
Economic cause: East India company wanted to trade with Tibet through Nepal. When the Nepalese Government did not agree to allow for trade, they decided to attack Nepal.
Affect in colonizing India: East India Company was expanding its power of control all over India while Nepal was uniting and was expanding towards India, which caused adverse impact colonizing India.
Climatic Cause: As British Armies were habited to cold environment and India was not favourable for them. Hence, they were in search of place from where they can take all control and has the right climatic conditions and Nepal had a similar environment.
Anglo-Gurkha War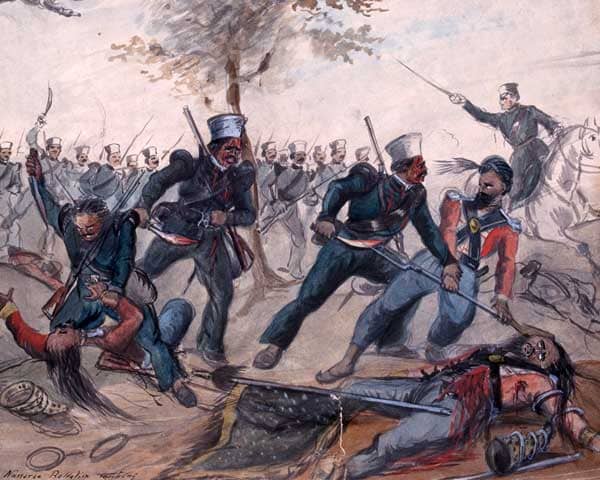 The Anglo-Nepalese War, also known as the Gurkha War, fought between the Kingdom of Gurkha and the East India Company started on November 1, 1814. It ended with the Sugauli treaty in 1816 is considered one of the most important treaties in the history of Nepal. During the war, Britain loosed many troops, while Nepal lost not much. You can imagine from this how brave were Gorkhas only 70 soldiers( including old peoples, children, and around 30 -40 adults) led by Balbhadra Kunwar killed about 5000–6000 British in the Battle of Nalapani at Nalapani Fort(Was part of Nepal currently of India, great Gorkha warrior fought at this place to defend Nepal).
Read About: Battle of Nalapani – An Epic Battle Fought by 600 Gurkhas
So, finally, when east India company realized that they had to lose many soldiers to invade Nepal, the war came to an end with Sugauli Treaty at Singha Durbar, Kathmandu, Nepal (first discussed in 1921), and the final treaty signed in 1923 December 21. Nepal loosed one-third of its party as a consequence of the agreement. Britain was in search of cold places, so they took places such as Nalapani, Kumar, Gadwal, Darjiling.
Consequences of the Sugauli Treaty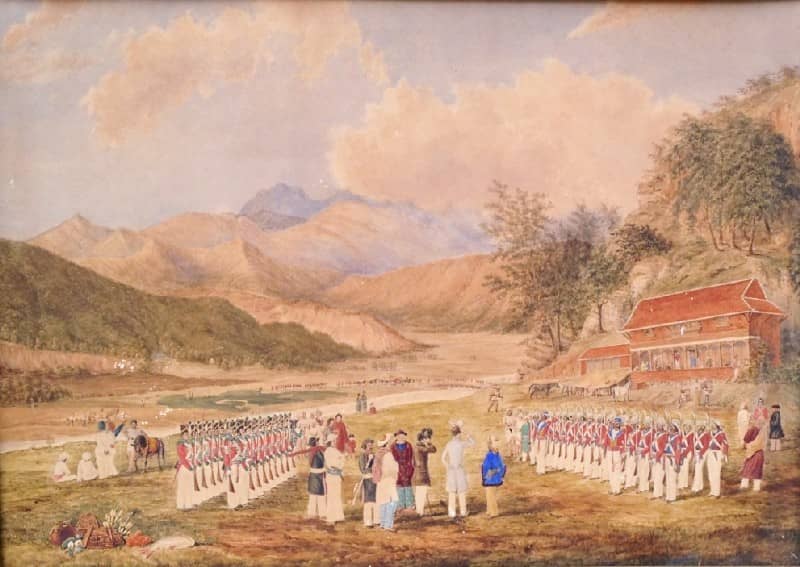 Nepal lost one-third of it's territories like Sikkim in the East, Kumaon and Garhwal in the west, and some Terai in the south.
The friendship between Nepal and Britain
Britain would be allowed to recruit Gurkhas for military service.
Nepal will remain Independent and as result Nepal was never colonized
Map of Great Nepal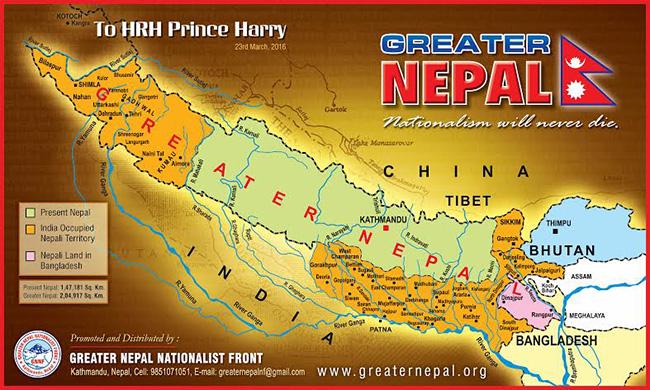 Conclusion– Was Nepal Colonized?
Some of you might be thinking I am trying to say Nepal won the war and Britain lost. But, I actually meant Nepal was a winning side for a short while, and seeking the possible future consequences of the war Nepal agreed to the treaty.
Indeed the British Empire was capable of capturing Nepal, but it wasn't easy as much as it was capturing small divided kingdoms of current India.
Though Nepal was outnumbered in the war, one brave Gurkha warrior was capable of killing more than 20 enemies.
It would cost a thousand skilled manpower and a considerable amount of capital to capture entire Nepal and also a measurable amount of time. It was better to make a treaty for both sides rather than the long-lasting war where both sides could lose a lot of manpower.
It could be concluded, Nepal was never captured by any Europian country of the world form the day Nepal evolved as a country in the universe.
---
If you don't agree with the fact that Nepal remained independent from the day Nepal has existed. I tried my best to explain why Nepal was never colonized and some causes of the Anglo-Nepalese war. Free to write your thoughts below in the comment section and I will try my best to update it with some of your kind thoughts. For further resources, you may refer to How Nepal Was Formed? Anglo-Gurkha War and British Colonization.
FAQ on Why Nepal was Never Colonized?
Who colonized Nepal?

No country in the world ever successfully Invaded and colonized Nepal. Though the British East India Company attempted to capture Nepal thrice but never successfully captured Nepal. Later a Peace treaty was concluded between Great Britain and Nepal was declared a sovereign country.

Has Nepal ever been conquered?

Never, Nepal has never been conquered by any external land. Nepal has remained Independent all the way till now. During seventeenth-century British attempted to invade Nepal but they consequently failed.

Was Nepal ruled by any country?

Nepal wasn't ruled by any foreign country and has never been part of any other forces even partially. Nepal was ruled by u003cstrongu003eShahu003c/strongu003e Kings after the u003ca href=u0022https://knownepal.net/how-nepal-was-formed/u0022 data-type=u0022postu0022 data-id=u00228u0022u003eunificationu003c/au003e till the Federal Democratic Republic of Nepal was established in 2008.

Was Nepal Colonized?

No Nepal has never been a colony of any country in the world and Nepal is one among few country countries of the world that were never been under the rule of any other country.

Was Nepal a British colony?

No, Nepal was never a British colony. Though Britain and Nepal share their own history, Nepal always remained Independent thanks to fearless u003cstrongu003efurious Gurkha warriorsu003c/strongu003e.