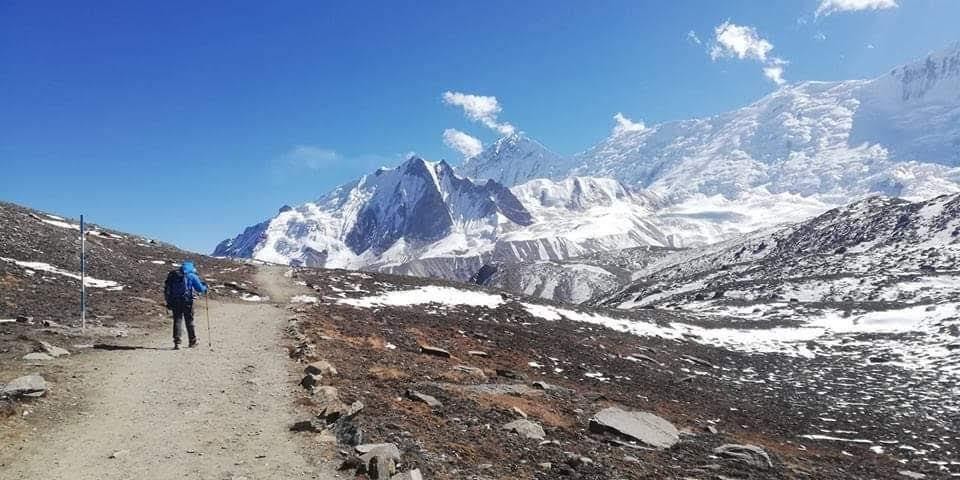 Tilicho lake is beautiful lake with surface area of about 4.8 km² and average depth of 279 ft located in the Manang district of Nepal currently part of Gandaki Pradesh(Province) at an altitude of 4,919 m. The trip begins from Kathmandu to Besisahar.In way from Kathmandu to Besisahar you will observe fantastic views of peaks including Mt. Annapurna (8,091m)(10th highest mountain of world), Mt Dhaulagiri( 8,167 meter long , worlds 7th highest mountain), Manaslu (about 8,163 meters long, worlds 8th highest )and Machhapuchhre( about 6,993 meter heigh) . Though trekking Tilicho lake is a bit of challenging but on the way to Tilicho , you can observe great views of waterfalls, and experience hiking in suspension bridges. But this route is a very tough, amazing and dangerous. You have to walk at high altitudes and you need to cross the Thorung La pass at (5,416m). The rocky trials, high hills and hiking through rivers are quite challenging. But the great view of landscapes gives meaningful joy to accept the geographical obstacles. Going through Manang is amazing as you can enjoy the natural beauty of this Manang area.
You may like:What to bring on a short hike
As you stats towards Upper Tilicho Lake, you will pass through several villages where you can haul up and you can get information about the culture and tradition of the local folks. After reaching Tilicho Base Camp and then ascending Tilicho Lake, you can view this amazing Lake view in front of your eyes. After enjoying the beauty of Tilicho Lake, you should visit Muktinath Temple which is a sacred place for Both Hindus and Buddhist. you have cross Thorang La pass (5,416m) on the way to Muktinath temple and go through some pretty unique villages. Finally, After reaching Muktinath and spending some beautiful moments at this place and landscapes which are really stunning. You should get back to pokhare.
You may llike: Most Beautiful Mountains In the World